Sometime in the middle of 2000, while I was preparing for my 2001 Appalachian Trail Thruhike, my pal Matt Posner mentioned that climbing Mount Rainier was on his list of things to do before he died.
When I returned from my A.T. hike, I started looking for my next adventure. When Matt mentioned Rainier again, I decided it sounded like a fun project, so I let him talk me into climbing Rainier in 2002.
Neither Matt nor I had any experience with mountaineering (my A.T. hike was hardly "mountaineering" even though I was climbing up and down mountains all day every day), so we decided to book Rainier Mountaineering Inc. as our guides. Thanks to residual training from my A.T. hike, some wonderful RMI guides, and no shortage of luck, I was able to make the summit on the morning of July 31st, 2002. Woohoo!
Below are some of the pictures I took on my trip. Click on a picture to see a larger version.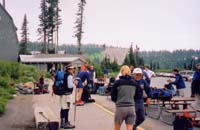 July 28th was training day. The RMI guides taught us how to avoid getting ourselves killed on the mountain. They also did a fitness to test to wash out people who weren't in good enough shape. Thankfully, neither I nor anyone else in my group got washed out. The picture shows the parking lot at Paradise (5400'), the starting and ending point for all of our activities on the mountain. The gentleman in the white cap, walking toward the camera, is a Nepalese Sherpa named Nawang Gombu. This guy has climbed Mount Everest multiple times. Without oxygen.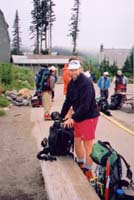 This is my pal Matt. Many thanks to Matt for talking me into this adventure. Matt was also a great training partner in the months before the hike. My inclination would have been to slack off, then cram all my training into the last month or two before the climb. Matt also supported my addiction to buying gear, for which I am eternaly greatful :-).
| | |
| --- | --- |
| I didn't have much time to take pictures while I was on the mountain. The RMI guides kept a very busy pace, and I foolishly did not keep my camera as close as I had planned. I did manage to squeeze off a shot of the rest of the group, and I got Matt to take a shot of me. Don't I like like a total Badass Mountain Man? It was (thankfully) a cool and foggy day on the mountain, and I had a lot of fun practicing self-arrest, walking in crampons, and generally playing in the snow like a little child. | |
When we planned the trip, Matt wisely scheduled an "off day" between our training day and our climb days. On our off day, we decided to take a short dayhike on the mountain to take pictures and see some of the sights.

The drive from our lodging to Paradise offered some spectacular views. There were several nice waterfalls, and the wildlife in along the road was amazingly tame. (Tame wildlife is NOT a good thing, but let's face it... tame wildlife makes for better pictures :-)).





We passed this tunnel on training day, near the end of our "test climb". We didn't have time to stop and enjoy the view. Actually, we didn't have time to stop at all. Matt didn't even notice this tunnel, and I only noticed it long enough to think "hey, that was pretty cool!"

This snow bridge was one of the more amazing things I have seen. It had a very delicate and ephemeral feeling, as if it could fall at any minute. Some of the pictures on Matt's Site are better than the pictures on the left.

Higher up on the mountain, I saw 100' crevasses, ice boulders the size of office buildings, and snow bridges spanning huge gaps... but none of these sights are stuck in memory as vividly as the tiny snowbridge pictured here.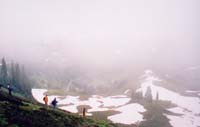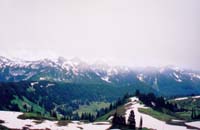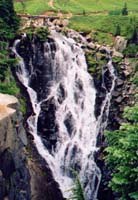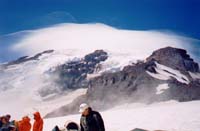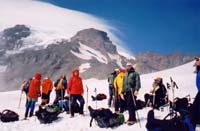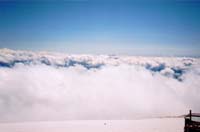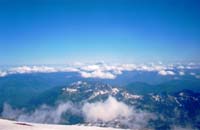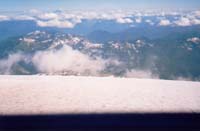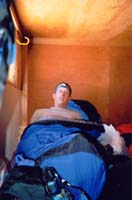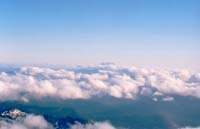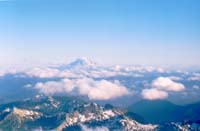 As you can see below, I didn't get a chance to take many pictures on the summit day. RMI runs a tight ship: Only three breaks between Camp Muir and the summit, and those breaks don't allow much time for picture taking :-(.
While taking a quick break at Disappointment Cleaver, I had the pleasure of seeing one of the best sunrises EVER. These pictures don't do justice to the sunrise. It was a shame I didn't get to spend more time enjoying it, but I had a mountain to climb, dammit! Sadly, only 4 of us (from the 13 people in our climbing group) continued past the Cleaver.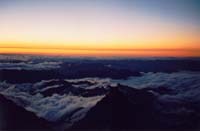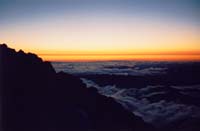 You might ask "what were you thinking when you reached the summit?". You might be disappointed when I answer "Damn, it's cold up here!" That's all. No deep thoughts. No greater insight to the meaning of life. Oh well.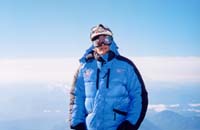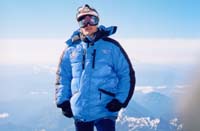 Here it is! The glory shot... the reason I did this trip. Me at 14,410'. Woohoo!
After a rather tiring hike down to Camp Muir, I was able to squeeze off a few more shots. Remind me to shoot more film on my next adventure.